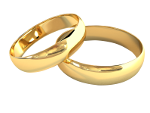 The Black Magic Big (Wedding) Band
Congratulations to all newly-engaged couples reading this page. We wish you the best of everything in your long and happy lives together.
If you are looking for an extra-special band for your wedding, you have come to the right place. We realise how important your wedding day is to you, know from experience how much planning and effort goes into it, and understand how important it is for everything to be perfect on the day. That's why we focus on adding a special touch to your wedding celebrations with our unique blend of:
Professionalism: An unobtrusive approach, attention to detail and strong focus on giving you the best experience possible.


Experience: All of our musicians are talented and seasoned performers, with many years experience in varieties of bands. As a group, we have entertained in over a hundred weddings and bring the wealth of that experience to your special day.


Visual impact: The Black Magic Big Band, filling the stage of your wedding venue, is a impressive sight. This 17-piece band will fill any stage with a wide array of instruments. The sight never fails to impress wedding guests, especially when the band begins to play, producing the stupendous sound that only a live big band can.


Quality: Our large number of musicians allow a depth and richness of sound unlike anything a smaller band could ever produce. Our professional musicians blend together to produce a quality of sound and performance that is unrivaled by other big bands.


Versatility: The ability to play different types of music to keep all wedding guests happy and to adapt perfectly to any venue, however large or small.


Choice: We work with you, in the lead-up to the wedding, to ensure the songs/music you wish to hear from our large repertoire are played on the night. Many couples choose a special song for their first dance, and wherever the song permits, we will play a big band arrangement of that song live.
Often, first dance numbers are chosen from our existing repertoire. With enough notice, a professional big band arrangement can be created for your chosen song, however this may incur an additional charge for the arranger's time. This service is only available for songs which lend themselves to being played by a big band. If we feel your requested song would not sound good as a big band arrangement, we will advise you of the alternative options.


Approachability: You will be in contact with the same person from your initial availability enquiry until your wedding day. This makes it easier for you to deal with us and ensures that none of your requests / plans are forgotten.