Welcome to the Black Magic Big Band's Website
The Black Magic Big Band is a 17 piece big band, plus vocalists, based in Galway, Ireland.
Featuring Galway's finest Jazz musicians, Black Magic Big Band is a very popular choice for nights out, weddings, corporate functions, festivals and private parties throughout Ireland.
The band is famous for it's 20-year-long Monday night residency, bringing its unique blend of Swing, Jazz, and Funk to Bar Cuba (since renamed to Bar903, and, most recently, McGettigan's) for the first 10 years, then Busker Browne's for the nearly 9 years, and, finally, Seven Bridgestreet up until late December, 2019.
News
Album Launch
Oct 9, 2022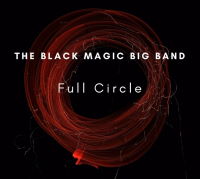 Join us in the Kings Head on Sunday Oct 9th (from 1pm to 3) for the launch of our latest album 'Full Circle'. This 10-track CD, recorded in 2021, showcases the band's versatility, with each track being an example of differing styles within the big band genre. Although recorded in band-members' homes, during lockdown, there were no compromises, in terms of quality! Produced and mixed by our Musical Director, John Fleming, and mastered in 2022 by Ed Kenehan and John Fleming, this album is one we're proud to have created.
To celebrate its launch, we will play a full set, including songs from the album, which you'll be able to pick up to bring the true sound of our big band into your car or home (listen here). We hope to see you there!
Christmas Single
Dec 6, 2021
Black Magic Big Band is proud to announce the release of it first Christmas single - Christmas Just Ain't Christmas (Without You) - available on all major streaming services.
This light-hearted, modern Christmas Duet was written, arranged, and produced by the Band's Musical Director, John Fleming, and features the vocal talents of Nicola McGuire and Keith McDonald.
3 Lunchtime Gigs in the King's Head in December
Nov 30, 2021
The big band will play in the King's Head, Galway from 1-3pm on Sundays 5th, 12th, and 19th of December. Due to COVID restrictions, there is limited capacity (table seating only) so we recommend you arrive early!
Supported by the Galway City Council.
Its time for another Album
April 2, 2020
It's been a long time since we could rehearse together, so we're planning to collaborate on a lockdown album. All inital recording will happen in each player's home studios (with a lot of emails being passed between us) but if lockdown restrictions ever ease, hopefully each section will be able to come together in a recording studio for more cohesive, natural recordings - and to enjoy playing together again. It's been a long lockdown!