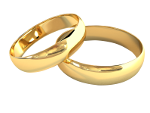 Additonal Options for your Wedding
We offer a number of additional options to make your wedding day perfect. If you have a request that is not listed here, please let us know when you
contact us
. We will do what we can to accommodate you.
Smaller Versions of the BandThe Black Magic Big Band is a 17- or 18-piece outfit, with band configurations made up from 3 - 4 trumpets, 3 - 4 trombones, 4 - 5 saxaphones, guitar, bass, piano, drums, and vocalist(s).

'Black Magic 12' is a 12-piece version of the band, for smaller budgets or venues. While there is some overlap, this band plays a slightly different set list from the full band's, with more focus on an energetic jump 'n' jive style that's guaranteed to get your guests dancing. This difference in the set list is because many of the full band's arrangements require more than 12 instruments to sound complete.
Very Small Groups
We can also provide smaller jazz groups, including your preferred instruments, to play before/after the big band entertains your guests. Over the years, couples have requested extras such as:
A five-piece combo (Piano, bass, drums sax, trumpet) to play in the lobby as guests arrive.
A sax and piano to provide background music during the drinks reception.
A solo piano playing background music during the meal.
Three trumpets to play a fanfare as the bride and groom enter the Wedding banquet.
Any extra cost will depend on the number of musicians you need and any sound / lighting requirements. Why not discuss your ideas with us? We'll be happy to advise.
DJ
If you need us to organise a DJ to play after the live music, just let us know when you contact us.
Church Music
If you would like some of our members to perform during your wedding ceremony, we'll coordinate that and also offer advice on what works best in different venues. While these booking and consultation services are free of charge, charges will apply for those musicians' performances and any custom musical arrangements they may need to create for you.